The following are paid political advertisements by the candidates for East

Paulsbo

Bakery Oversight Commissioner, and do not necessarily reflect the opinions of Cake Wrecks or its affiliates.
Friends, when you go to vote tomorrow, consider this: do you want someone loyal, trustworthy, and true overseeing your county bakeries?
S
omeone

with a firm grip on his patriotism?
OR....do you want Gretchen Schankhausen?
[
Pyscho
music]
Ernie
Snerdbergler
: "I'm Ernie
Snerdbergler
, and I speak for you, the
American people
. I stand
against
plastic flotsam
and
terrorism. Unlike my opponent, Gretchen
Shankhoosier
, who I hear speaks
French
.
So tomorrow, choose hope. Choose AMERICA. Choose...Ernie Snerdbergler.
----------------------------------------------------

Gretchen Schankhausen believes all children should be happy on their birthdays. Not so with Ernie Snerdbergler, who, in case you haven't noticed, has "bergler" in his name.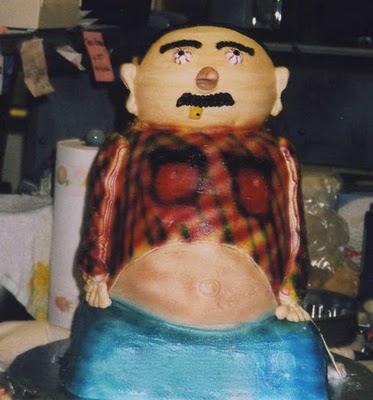 Do you want a burglar in charge of your bakery oversight advisory boards? Of course you don't.
Gretchen Schankhausen is a life-long baker, community activist, and volunteer frog neuterer.
Tomorrow, vote for cake. Vote
against
robbery. Vote...for Gretchen
Schankhausen
.
--------------------------------------------------

Gretchen Schankhauser loves devil's food.
Gretchen sound bite: "Oh, Devil's food is my favorite!"
Ernie Snerdbergler, however, loves children, decency, and the American way. Ernie Snerdbergler KNOWS America.

Just look at this video clip of Ernie Snerdbergler playing catch with children on a playground, surrounded by more children, who clearly adore him, and also kittens. Lots and lots of kittens. Clearly, he is the only *safe* choice for your county bakery commissioner.
This November, vote against the devil. Vote for kittens. Ernie Snerdbergler: 'cuz kids love him.
-----------------------------------------------------------

A "
bergler
" is trying to steal Gretchen
Schankhausen's
good name. However, you should know that Gretchen
Schankhausen
is actually an
angel
in
disguise
.

Woodland creatures love Gretchen Schankhausen. Gretchen Schankhausen once healed a blind man by accidentally sneezing on him. Honest.
Plus, Ernie Snerdbergler eats babies for breakfast.
So tomorrow, if you ever want a disguised angel to sneeze on you, or if you don't want your babies eaten, then vote for Gretchen
Schankhausen
.
Kit, Kaitlin W., Caitlyn P., Shannon K., Bonnie, Allison, Aimee, & Sarah, just think: after tomorrow, no more campaigning!
Yep, I'll eat cake to that.