You know how I'm always telling you baby butt cakes could be so much worse?
Things are about to get so much worse.
Heads up!
Wow. This is so stinkin' sexy, I almost didn't even notice the outie belly button.
Because fetus cookies are SO last year:
Goes great with mother's milk.
And lots of screaming.
Proving once again that bakers are taking posts on this blog as inspiration: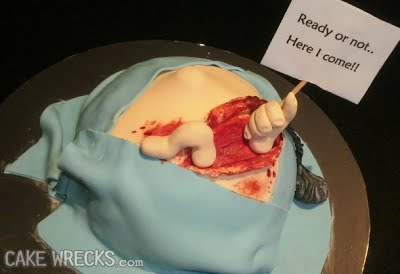 I'm torn (ha! Ew.) between asking what that gray pouch thing hanging out is and desperately, desperately, not wanting to know. In fact, know what? Don't tell me. I'm never having kids, so knowing what the inner lining's poop chute or whatever looks like is just one of those things I never need to know. Seriously. Leave me to my blissful ignorance.
And finally, look. I realize that a lot of talent was required to make some of these wrecks - I do! However, no amount of talent will ever make any part of this look yummy to me:
In fact, you
could
say the amount of talent a baker has when making a placenta has an inverse reaction to how much I want to
eat
said placenta.
Or, in other words:
SWEET BETTY CROCKER I AM NEVER EATING AGAIN.
Thanks to Matt R., Sarah M., Carl G., & Heather A. for today's gut-busters. Now if you'll excuse me, I'm off to skip lunch.
*****
Thank you for using our Amazon links to shop! USA, UK, Canada.
And from my other blog, Epbot: